a name synonymous with Hotel Dieu Shaver and Hotel Dieu Shaver Foundation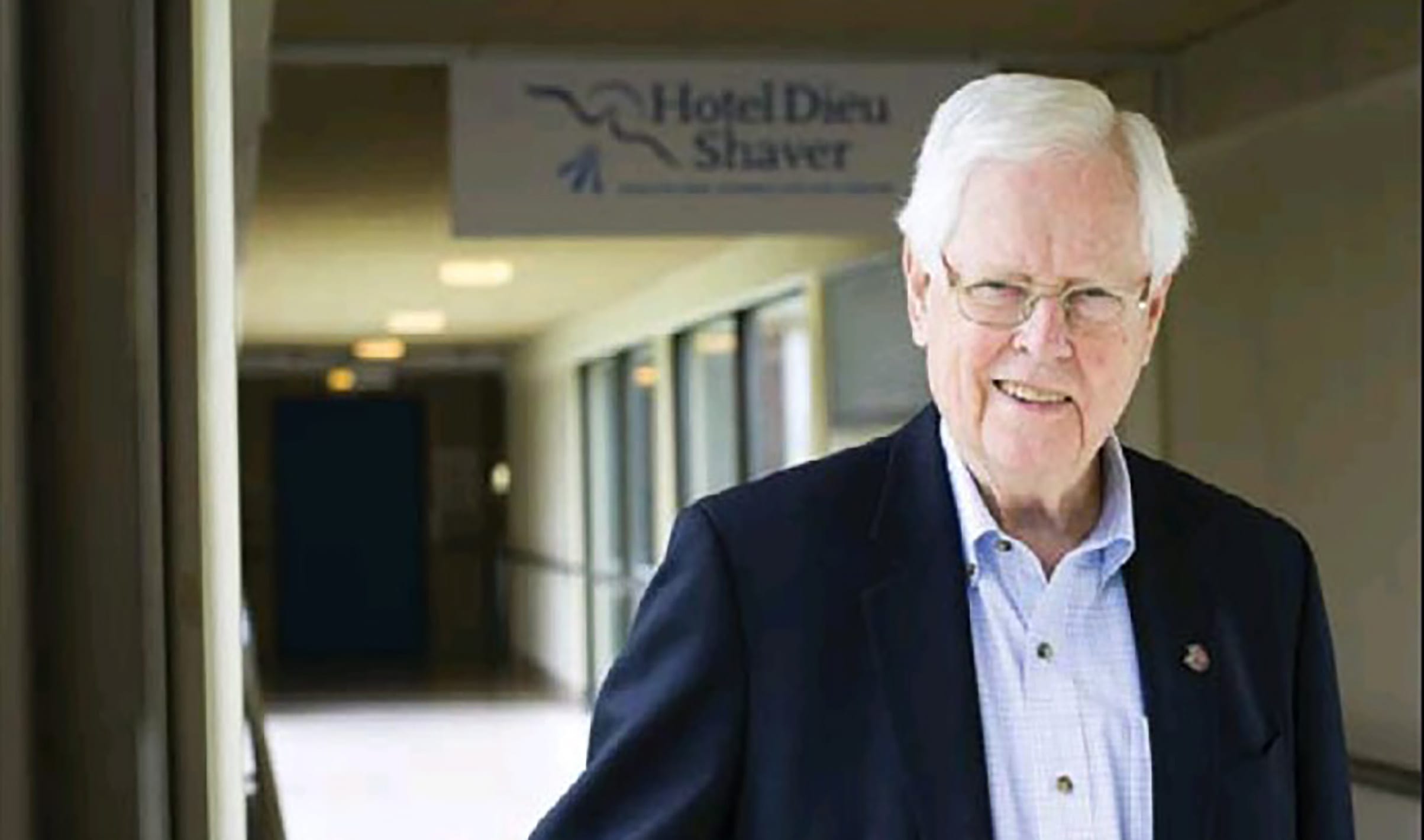 A former patient, Bob is one of the few that can still share his first-hand experience with Dr. Cecil Shaver, part of Hotel Dieu Shaver's namesake. Back in 1966, he spent three weeks under the care of Dr. Shaver. So impressed with how Dr. Shaver cared for him, he was determined to give back.

Starting as a volunteer and eventually becoming Executive Director of Hotel Dieu Shaver Hospital Foundation from 1994-2010, Bob is an inseparable part of the hospital's history. He has been here through all the changes, from a tuberculosis hospital to a rehabilitation centre to the merge of Ontario Street's Hotel Dieu and Shaver Hospital in 2005.

Though retired for many years, Bob continues to volunteer with Hotel Dieu Shaver's Auxiliary, and is still a member of Hotel Dieu Shaver Foundation's Board of Directors.
---

In lieu of gifts, Bob would appreciate if donations were made - in honour of his 100th birthday - to the Bob Bell Staff Education Fund

- You will have the option to leave Bob a message which will be presented to him as part of a special keepsake -
  
Do you have any photos of Bob and/or a story or message to share?! We would love to include them in the special keepsake we will be presenting to Bob. Please email Nadine.Champis@hoteldieushaver.org 
---
What is the Bob Bell Staff Education Fund?

Established in 2012, the Bob Bell Staff Education Fund was created to honour long-time Hotel Dieu Shaver and Shaver Hospital Foundation Executive Director and Board Member Mr. Bob Bell.

HDS Foundation recognizes the importance of continuous learning to the success of both individual workers and to Hotel Dieu Shaver Health and Rehabilitation Centre as a whole. The fund encourages and supports HDS staff in achieving their educational and professional goals, adding value to the organization by sharing what they have learned.

Annual cost of $10,000 | funded by generous individuals and organizations