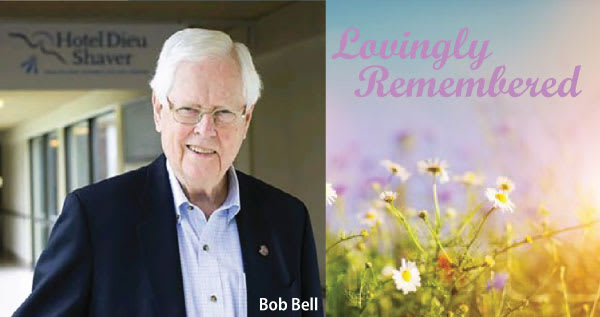 October 9, 1921 - May 13, 2022

At 2:00 a.m. Friday, May 13th, Bob died at the Hotel Dieu Shaver Hospital after a brief illness. He served his community, his country and touched the lives of many people in so many different ways. 

Bob was blessed with family and friends that loved and respected him. He was married to Ruth, the love of his life and center of his universe for seventy-one years. Theirs was a real-life love story.

After retirement from G.M. as an administrator in production control, Bob transitioned to executive director of the Hotel Dieu Shaver Foundation. He developed a fondness and respect for staff that he believed provided a level of care unrivalled by any other institution. Perhaps it's fitting that he spent his final few days in their care. 

Read Bob's complete obituary here
---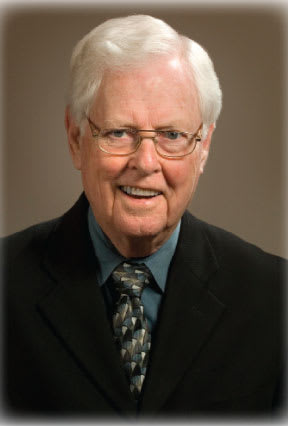 Bob Bell... a name synonymous with Hotel Dieu Shaver and Hotel Dieu Shaver Foundation.

A former patient, Bob was one of the few that could share his firsthand experience with Dr. Cecil Shaver, part of HDS' namesake.

Back in 1966, he spent three weeks under his care and he was so impressed with how Dr. Shaver cared for him, he was determined to give back.

Joining the Shaver Hospital Board of Trustees in 1970 and eventually becoming Hotel Dieu Shaver Foundation's first Executive Director from 1994-2010, he has been through all of the hospital's restructuring changes. 
Bob is and will continue to be an inseparable part of our hospital's history.

As Executive Director of the Foundation, Bob made it a priority each day to walk the halls of Hotel Dieu Shaver to visit with patients and staff. Bob's friendly face, cheerful banter, and calm demeanor made him something of a celebrity at Hotel Dieu Shaver. Even after retirement, Bob continued to fundraise and volunteer through Hotel Dieu Shaver's Auxiliary, and remained a member of Hotel Dieu Shaver Foundation's Board of Directors. In his honour, the Bob Bell Education Fund was established in 2012, allowing staff the opportunity for professional development in their field.

All that knew him, especially those of us within the Hotel Dieu Shaver and Hotel Dieu Shaver Foundation family, will miss Bob Bell dearly. His legacy will continue to be carried on in everything that we do.
---
Article from The St. Catharines Standard

The longtime St. Catharines politician who built a reputation in the community bridging the partisan divide over three decades as a politician has died.

Robert (Bob) Bell, 100, died at the Hotel Dieu Shaver Hospital earlier this week after a brief illness.

Regional Chair Jim Bradley said Bell was the last living member of the original Regional Council, which was formed in 1970, and had previously served on St. Catharines City Council serving the Grantham Ward.

Bell political career began in 1959 as a member Grantham Township Council, which was incorporated as part of St. Catharines in 1961 along with The Town of Merritton and Village of Port Dalhousie. Bell was also part of the initiative in 1959 to create the Lester B. Pearson Park.

"He was certainly well respected by people of all backgrounds," said Regional Chair Jim Bradley. "Bob was a different kind of politician in that he didn't have any enemies. Usually, anyone in politics, no matter who they are, will have people who don't like them or are out to get them. Bob was a guy who had no enemies I can think of."

Read the full article here