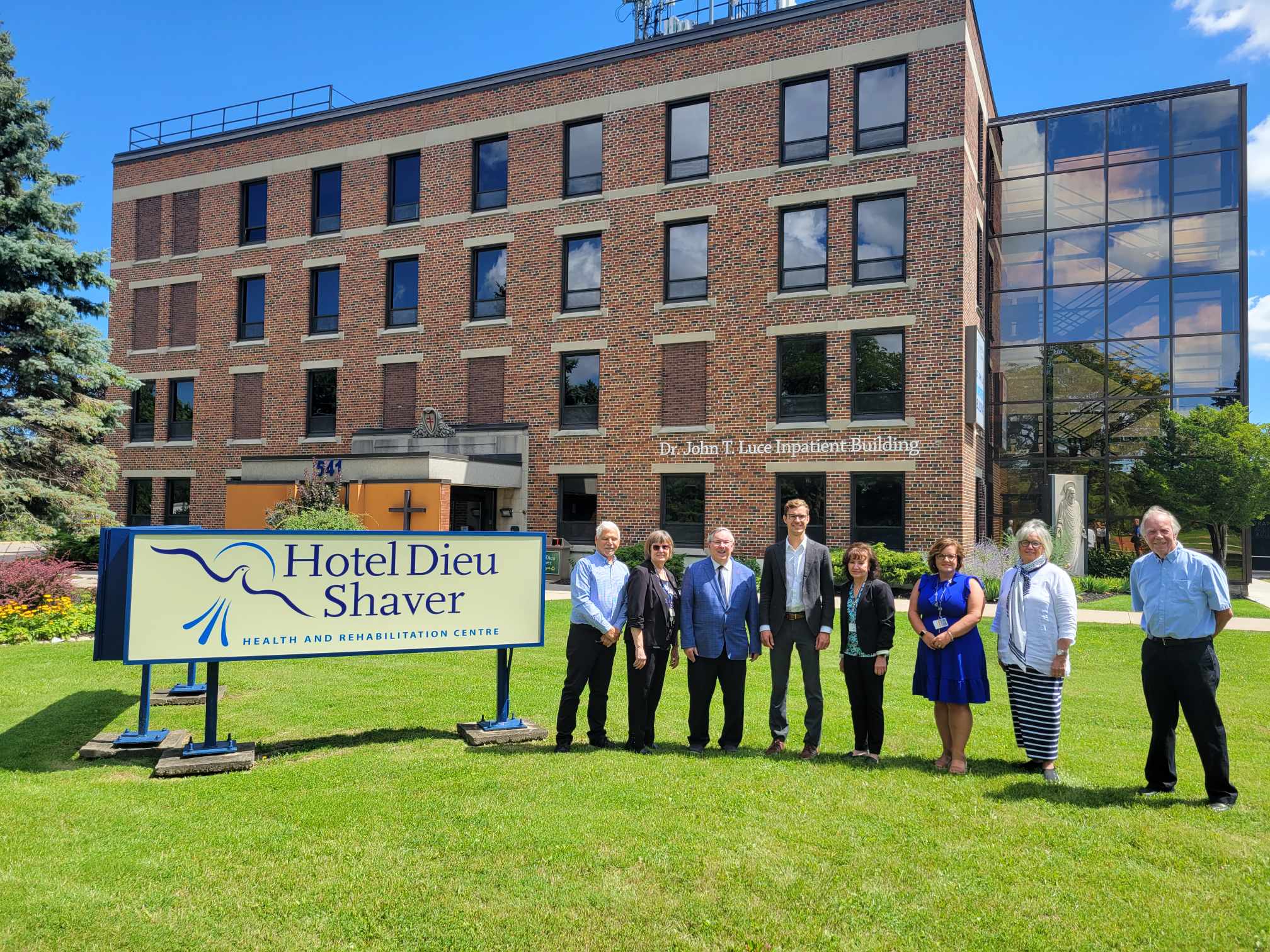 Photo Caption (From Left to Right): Rick Mauro, Board Chair, Hotel Dieu Shaver Foundation; Sister Louise Dillon, Director of Mission and Pastoral Services, Hotel Dieu Shaver; Jim Bradley, Chair, Regional Municipality of Niagara; Sam Oosterhoff, MPP Niagara West; Lynne Pay, Chief Executive Officer, Hotel Dieu Shaver; Tracy Geoffroy, Executive Director, Hotel Dieu Shaver Foundation; Betty-Lou Souter, Trustee, Hotel Dieu Shaver; Bob Lawler, Trustee, Hotel Dieu Shaver
---
ST. CATHARINES – As part of Your Health: A Plan for Connected and Convenient Care, the Ontario government is providing a one-time capital grant of up to $2,500,000 to support costs associated with early planning for the proposed Rehabilitation Bed Expansion Project at Hotel Dieu Shaver Health and Rehabilitation Centre in St. Catharines. This funding is in addition to $500,000 previously approved in March 2019.

"This key investment in Hotel Dieu Shaver demonstrates the commitment of our government to local health care and hospital infrastructure in Niagara," said Sam Oosterhoff, MPP for Niagara West.

"The Rehabilitation Bed Expansion Project supports our government's efforts to help deliver faster, more convenient access to care closer to home for patients and families across our region."

"We are very appreciative of this investment which clearly acknowledges the changing demographics and rehabilitation needs of the residents of Niagara," said Anne Atkinson, Board Chair of Hotel Dieu Shaver.

"Hotel Dieu Shaver is well positioned with the skill, expertise, and interdisciplinary team to meet the rehabilitation needs of Niagara patients. We just need more beds, and this commitment by the Ontario government allows us to take that positive step forward."

"Today's capital grant announcement recognizes the critical role of rehabilitation in our healthcare system," said Lynne Pay, Chief Executive Officer of Hotel Dieu Shaver.

"By investing in the expansion of Hotel Dieu Shaver, Niagara's only rehabilitation hospital, we are ensuring that the residents of Niagara receive the rehab care they need and deserve to maximize their quality of life and provide those who need our services with the ability to live as independently as possible."

"This is a momentous next step for Hotel Dieu Shaver and for rehabilitation in Niagara," said Tracy Geoffroy, Executive Director of the Hotel Dieu Shaver Foundation."

"At the Foundation, we have a front row seat to the incredible services Hotel Dieu Shaver provides the residents of Niagara, as they continually rebuild and restore lives in such a compassionate and powerful way. This investment by the Ontario government will have a historic impact on rehabilitation in our community."

The Rehabilitation Bed Expansion Project at Hotel Dieu Shaver includes plans to construct a new 171,500 square foot inpatient building, providing single patient rooms and adjacent support space. The new building will support an additional sixty-two rehabilitation beds, bringing the total number of beds at Hotel Dieu Shaver to 196.

The capital grant funding is part of the Ontario government's investment of nearly $50 billion over the next ten years to support more than fifty major hospital projects across the province, including the construction of a new 469-room South Niagara Hospital in Niagara Falls and 122-room West Lincoln Memorial Hospital in Grimsby.

"Our government is working hard to build a more connected and convenient healthcare system so Ontarians can access the care they need in their community," said Hon. Sylvia Jones, Deputy Premier and Minister of Health.

"This investment in Hotel Dieu Shaver will support increasing capacity and reducing wait times to better serve patients in Niagara for years to come."

"Hotel Dieu Shaver plays a crucial role in providing rehabilitation services and health care for thousands of Niagara residents each year," said Jim Bradley, Chair of the Regional Municipality of Niagara.

"This grant from the provincial government ensures that Hotel Dieu Shaver will be able not only continue to deliver these vital services, but also expand their offerings to ensure more individuals in need of treatment can get a bed when they need it. On behalf of Regional Council, I want to thank the province for their commitment to Hotel Dieu Shaver and their decision to provide crucial funding that is helping to ensure that Niagara will continue to grow better together."

"As Niagara's only specialty rehabilitation hospital, the need for more rehabilitation beds at the Hotel Dieu Shaver was quite clear," said Mat Siscoe, Mayor of the City of St. Catharines.

"Today's investment will continue the long history of excellent care provided by Hotel Dieu Shaver, while meeting the growing demand for rehabilitation services in our city and region. On behalf of the City of St. Catharines, thank you to the province for coming through with this crucial funding."

Established in 1944, as Niagara's only rehabilitation hospital, Hotel Dieu Shaver provides exceptional clinical outcomes to thousands of Niagara residents through rehabilitation and complex care programs.

Quick Facts

• Ontario's $850 million investment in 2023-24 represents a four percent increase on operating funding to hospitals in 2022-23.

• Ontario's investments over the next ten years will lead to nearly $50 billion in health infrastructure across the province.

• As of the end of 2022, Ontario approved fifty hospital development projects that will build more than 3,000 new hospital beds in communities across the province over the next ten years.